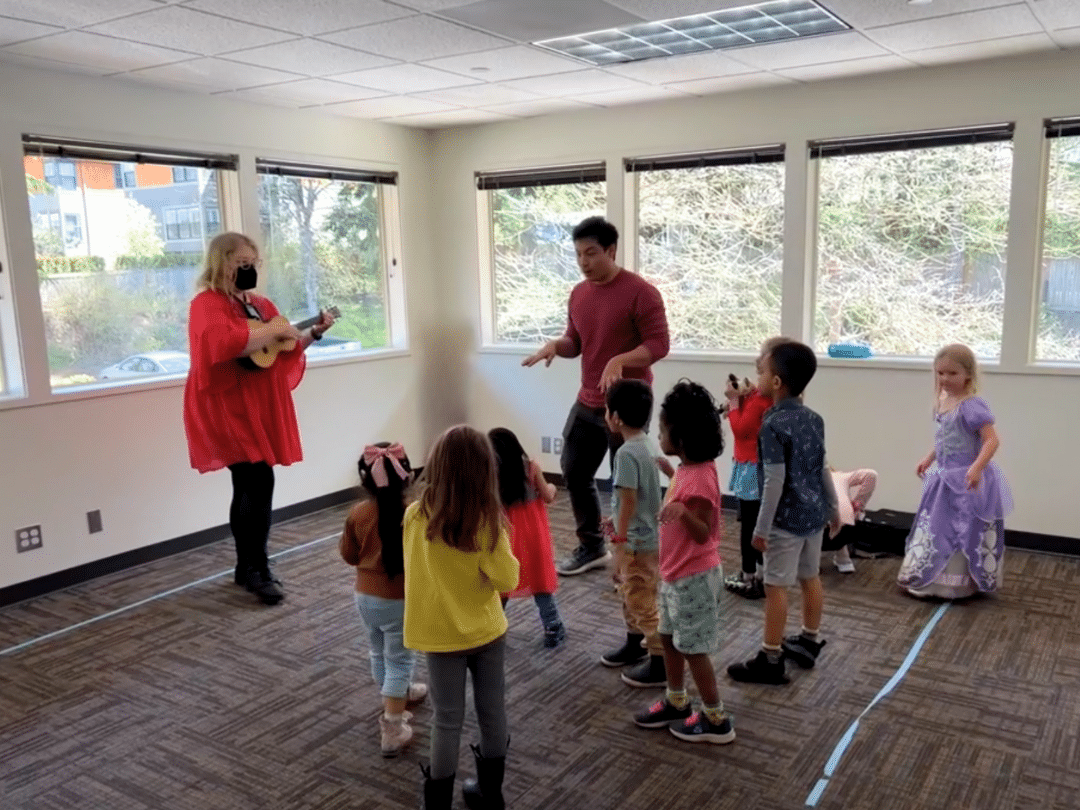 The Benefits of Music Lessons for Preschoolers with Hearing Loss
Posted by

Categories

Blog

Date

May 26, 2023
Music lessons have been shown to provide numerous benefits for children and adults alike. For those with hearing level differences, engaging in musical lessons can help improve the perception of musical elements, specifically pitch and rhythm. These elements are not only important in music, but are also crucial for perceiving the prosody of speech and for understanding speech in noisy environments.
At Listen and Talk, we have partnered with the Music Center of the Northwest to provide our preschool-aged children with high-quality, developmentally appropriate music lessons. These lessons focus on essential aspects of sound, such as pitch, rhythm, and intensity. The blended classroom program includes 3- to 5-year-old children with a range of hearing levels and hearing devices who learn alongside typically hearing peers. Since January 2022, 40 children have participated in music sessions through the Music Center Northwest.
We are particularly interested in understanding if music lessons have a positive impact on the development of auditory skills in preschool-aged children with hearing level differences. To evaluate this, we are testing children's ability to perceive speech in the presence of background noise, as well as their ability to perceive voice emotion (prosody), both before and after music lessons. Additionally, we plan to assess children's pitch, rhythm, and intensity knowledge by evaluating their ability to differentiate between melodies with varying pitches, rhythms, and intensities.
In order to determine the unique effect of music lessons, beyond the interventions children receive throughout their school day, we have organized music lessons in two staggered cohorts: a fall/winter cohort and a winter/spring cohort. All children participate in testing for listening in noise, emotion perception, and music knowledge before and after the fall/winter cohort receives music lessons. We then compare auditory skills between the two groups. If music lessons have a positive impact on auditory skill development, we would expect the skills of children in the fall/winter cohort to surpass those of the children in the winter/spring cohort.
As we eagerly await the collection of data, we recognize the importance of such research in understanding how to best support our families and their children with hearing loss. Listen and Talk is dedicated to expanding research efforts to ensure we continue providing the most effective interventions and services possible. By focusing on research and collaboration with community partners like Music Center of the Northwest, we aim to create a bright future for all children who are deaf and hard of hearing, empowering them to reach their full potential.
To learn more about how the Rhythm Kids program can nurture your child's musical creativity, visit the Music Center of the Northwest's website today.