Journey with Listen and Talk
Posted by

Categories

Blog

Date

February 15, 2022
This article was originally published in Kirkland Living Magazine in February 2022.
Listen and Talk, a specialized listening and spoken language program for young children who are deaf and hard of hearing, brings a vibrant history to the Kirkland area. Nestled behind the Kirkland Starbucks on 85th Street, the organization seeks to create a world where no child is limited by hearing loss.
25 years ago, Listen and Talk's Founder, Star Leonard-Fleckman, took the ambitious step of transforming her home-based private practice into a nonprofit organization, growing to serve over 200 families a year in the Puget Sound region. "Starting Listen and Talk allowed us to reach more families that wanted listening and spoken language for their children with hearing loss," says Star.
Thanks to Newborn Hearing Screenings, families start to learn about their infants' hearing levels shortly after birth. Advanced hearing technology— such as hearing aids, cochlear implants and bone-anchored speech processors— and specialized services create an opportunity for children who are deaf/hard of hearing to meet developmental milestones like their peers with hearing.
Listen and Talk's highly-qualified providers embrace and honor each family's values and home language as they use a family-centered approach to create meaningful experiences within daily routines.  This early access to hearing technology and family coaching focused on listening and spoken language helps children with all degrees of hearing communicate, connect and learn through listening and spoken language without the use of sign language.  Nonprofit services at Listen and Talk include a Birth to Three Program, a Blended Classroom Program for preschoolers, Audiology Support, Listening and Spoken Language Therapy services and Outreach services for children attending neighborhood schools.  Family involvement deepens the impact of all of these services.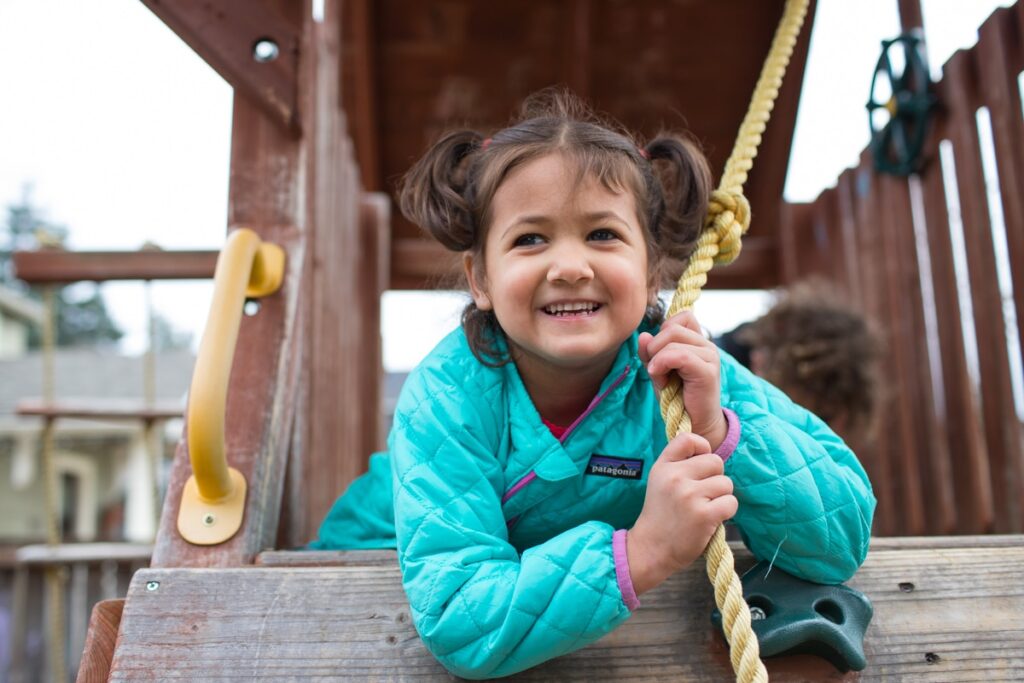 "Listen and Talk provided an unparalleled learning environment for Kayla during her most formative auditory learning years." say Brent Hill, a Kirkland resident and Listen and Talk parent. Brent and his wife enrolled their daughter Kayla into Listen and Talk's programs. She recently graduated from Listen and Talk's Blended Classroom Program for preschoolers last spring and now attends her neighborhood kindergarten. "The team at Listen and Talk also prepared us for Kayla's learning journey after the program," says Brent. "She has entered public Kindergarten this year with amazing communication skills, an ability to self-advocate, and the confidence to build strong peer relationships.  This is a direct result of her time at Listen and Talk."
Many families feel a sense of shock upon learning that their child is deaf or hard of hearing. Listen and Talk's family coaching strategies provide parents and guardians with a sense of hope. The approach builds relationships, confidence and knowledge while fostering each child's growth and learning. In Listen and Talk's Birth to Three program, providers work 1:1 with families as they connect with their babies and build foundational language skills.   Providers use of a family coaching model, support each family as they make sound and spoken language meaningful for their child.  This early listening experience builds the foundation for spoken language and literacy skills. Family coaching helps a baby's brain make sense out of sound through fun, naturally occurring family activities.  "We are a relationship-based program. Our providers and families thrive because we honor and value the partnership that we form so that parents feel confident, less worried, and can shift their focus back to the joy in loving and communicating with their baby." says Tara Ellis, Listen and Talk Birth to Three Manager.
Children may continue their language development journey at Listen and Talk's Blended Classroom Program. These lively classrooms offer a quality preschool experience focused on communication and social development. Children with hearing are also welcomed in Listen and Talk's preschool classes all children benefit from the developmentally appropriate learning environment which builds strong language, pre-academics, critical thinking, and social-emotional skills. Listen and Talk's small class sizes guarantee that each child receives individualized attention and support
The organization's on-site Audiology Support and Listening and Spoken Language Therapy programs ensure that families have access to family-centered services as their children who are deaf/hard of hearing continue on their language journey. Both programs provide sophisticated testing to track a child's progress and optimize the impact of advanced hearing technology. This careful attention to detail ensures that growth and development is also optimized.
Listen and Talk moved to Kirkland in 2020 and despite pandemic-related limitations, they quickly became an engaged member of the vibrant Kirkland Community. Guided by their value for families and collaboration, Listen and Talk has sponsored the Kirkland Wednesday Market and participated in Pumpkins in the Park.  Their approachable event booth is quite popular among young families as kids are eager to play the carnival games present. Guided by their commitment to equity, Listen and Talk recently participated in the diaper drive benefiting Northshore Eastside Baby Corner to help meet the needs of vulnerable families and children.
"I am thrilled with how the Kirkland Community's interest in our work and support for our programs will help us realize our vision where no child is limited by hearing loss. We are excited to launch our 25th Anniversary Year in the City of Kirkland!" says Maura Berndsen, Listen and Talk Executive Director.
Each day Listen and Talk helps families and their children with all degrees of hearing loss discover the wonder and amazement of things many of us take for granted…singing a song…hearing the phone ring when Grandma calls…telling a story about what happened at school…Listen and Talk celebrates these ordinary moments recognizing that they are extraordinary milestones on the listening-and-language learning journey.  Listen and Talk is proud to have been part of that journey with families for the past 25 years and looks forward to many years ahead in the Kirkland Community.
Learn more about our Hearing Peer Preschool Program here.