New Year, New Smoke Alarm?
Posted by

Categories

Blog

Date

February 4, 2019
At this time of year, when the glow of the New Year's celebration is behind us and the prospects of the Lunar New Year are just ahead, it is often a time of reflection.  The renewal that we feel with a toast at midnight and the flipping of a calendar page, is punctuated by the opportunity to assess our current status, set new goals, and make plans for the months and year ahead.  It is also a time that many take the opportunity to attend to more practical matters of renewal, such as, paying annual membership fees, taking stock of emergency supplies, and changing smoke alarm batteries.
As I began changing the batteries in my own homes' smoke alarms, an article came to mind that I had come across while searching for audiology supplies on the Oaktree Products, Inc. website entitled, "Research Summary of Smoke Detectors and Hearing Loss".  It hadn't occurred to me before, but it made me wonder, "What is the best way to ensure our loved ones with hearing loss get alerted to a fire when they are not wearing their listening devices?"
Now a house fire is personally one of my worst nightmares; it is one of those life-altering disasters that we would rather assume will never happen, and therefore may put off preparing for.  But fires in the home, just like earthquakes, storms, and power outages, need to be carefully planned and prepared for, no matter how much we'd like to think it won't happen to us. To illustrate this idea further, the article gave several scary facts about residential fires, including that residential fires are the 4th most common accidental cause of death in the U.S., and that most fires in the home, happen in the middle of the night when everyone is sleeping and your loved ones with hearing loss are likely not wearing their listening devices.
The study also found however, that it's not just those with hearing loss, but all children who have a difficult time waking up to the sound of an audible smoke alarm alone.  Typical adults without hearing loss, can be woken from a deep sleep within 32 seconds of an active smoke alarm, while only 17% of normal hearing children woke to an audible alarm in that amount of time. In fact, 77% of children with normal hearing did not respond to an active smoke detector after 3 full minutes – yikes!   The study also related that an individual, in the event of a residential fire, should plan to be out of their home in less than 2 minutes to avoid injury, but if it's taking a normal hearing adult over 30 seconds to react, how can we expect those who cannot hear the audible alarm to react quickly enough?    
All of us have smoke alarms in our homes and that is, of course, a good place to start however, what about our children and family members with hearing loss?  How do we ensure our loved ones are able to be alerted and get out safely and fast in the event of fire?  
Thankfully, the Oaktree article also offered some solutions for how to address these very real and scary scenarios in the form of bedside smoke detectors or Vibro-tactile alarms.  Vibro-tactile alarms are those that can shake a person awake instead of relying on an audible sound alone. The alarm vibrates the bed/pillow of the sleeper to alert them of an emergency.  Some vibro-tactile alarms emit a tone, as well as vibration, to be doubly sure an individual will wake up, and faster! Research found that using a pillow-level bed shaker and an alarm at bedside that emits a 520 Hz square wave tone, proved to be the most ideal solution for waking individuals with hearing loss. There are several vibro-tactile alarm options on the market; all are designed to work with your current residential smoke alarm by sensing the tone emitted from the smoke alarm which then activates the bedside alerting system.  Some available models to consider are:
Lifetone HLAC151 Bedside Fire & Alarm Clock with Bed Shaker
Central Alert CA-360 with optional CA-AX signaler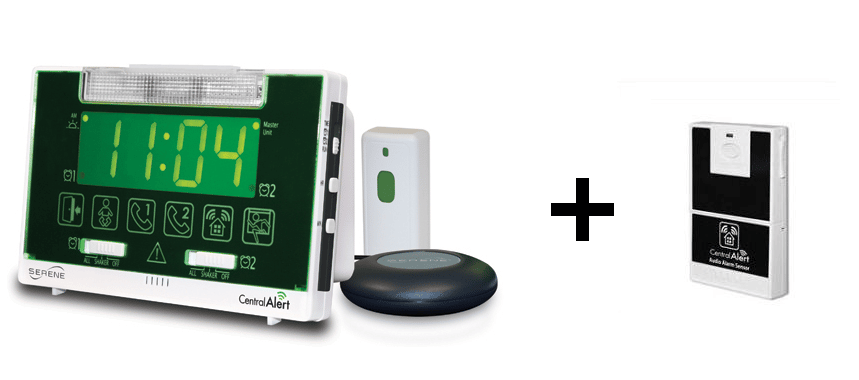 HomeAware HA360MK and smoke signaler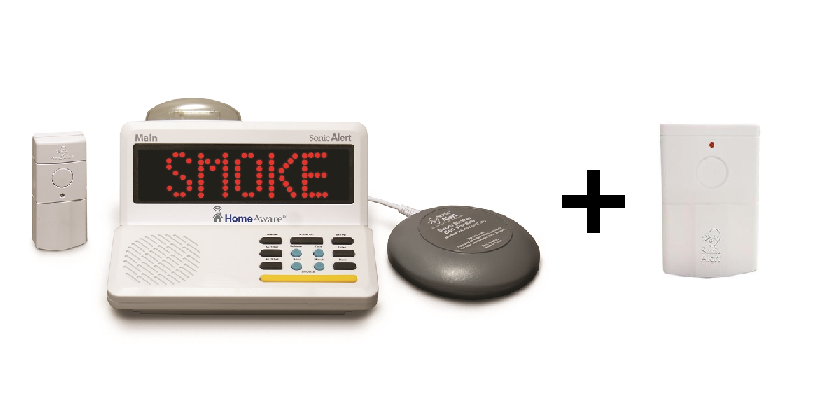 I also learned however, that Vibro-tactile alarms aren't just good  for emergencies. It is also a great idea to help your loved one with hearing loss to wake up in the morning!  As kids get older and need to wake up on their own for school or their job, they will need something to get them out of bed independently.  Teaching them to use their own vibro-tactile alarm is a great way to ensure they will be safe in the case of an emergency and also impart some independence and responsibility; a great New Year's goal for everyone!
If you are interested in finding out more about vibro-tactile alarms and how you can protect your loved ones with hearing loss this New Year, please visit the Oaktree website: https://www.oaktreeproducts.com/bedside-smoke-detector-solutions or contact the Listen and Talk Audiology Team: audiology@listentalk.org to learn more.