Bringing Speech Home
Posted by

Categories

Blog

Date

January 25, 2019
Children learning to listen for and use new speech sounds need to hear these sounds more frequently; however, finding opportunities at home for this listening practice may seem daunting. Frequent exposure to these sounds through songs, routines, games, and books is not only necessary, but a great way to bring speech home.  In this way, your child will learn to acquire, master and generalize these sounds into their everyday spoken language.
Cochlear has a speech sound resource that is one of my go-to resources to share with families who want creative ways to carry over the work from our sessions into their home.
For Consonant Sounds: Speech Sounds – A Guide for Parents and Professionals
For Vowels: Speech Sounds: Vowels – A Guide for Parents and Professionals in English and Spanish
Sounds are broken down into individual sound units.  For each unit, you will find:
Child-Friendly Words

Daily Routines

Activities

Games and Toys

Sounds, Rhymes or Fingerplays

Books
 .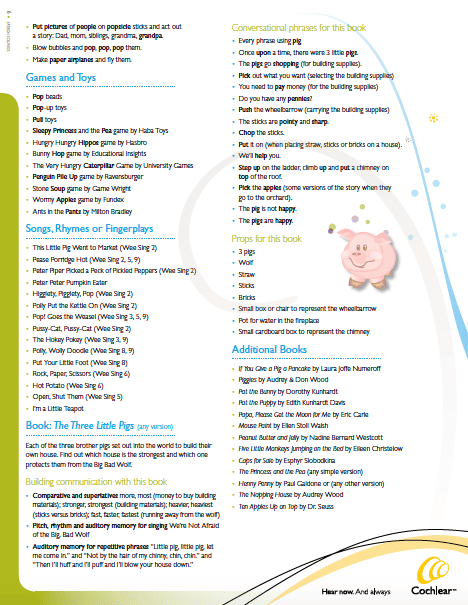 Using the sound units, look for books on the list you may already have, or consider checking some out from your local library.  Try picking an activity or two, a song to sing with your child, and a daily routine that you can use to highlight the speech sound your child is working on.  
If you have any questions on how to use this resource at home, make sure to talk to your child's therapist, B-3 provider or teacher on how to use auditory strategies to highlight these sounds in fun and natural ways.  You may be surprised just how easy it is to bring speech home!